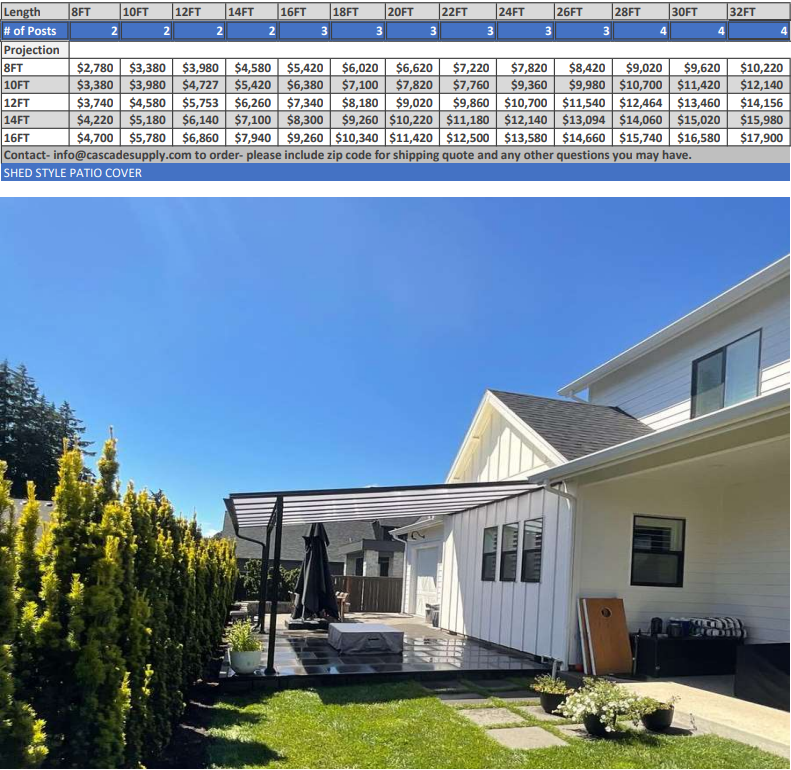 Patio Cover Kit- Shed Style Black Frame w/ Frost White Panels
Shed Style Patio Cover Kit is quick and easy to install. Made from durable materials for many many years of enjoyment. A patio cover will protect your outdoor space without blocking natural light, and overcome snow, high winds, and intense heat. Don't let the weather stop you from enjoying the outdoors.

THIS IS WALL MOUNT
Contact us about roof mount. 
Patio Covers built to last
5/8" Polycarbonate frosted panels.
Frame is made from maintenance free powder coated extruded aluminum.
Kits includes all needed hardware. 
Includes 9ft posts with base plate.
Measurements are: Projection (building-out) X Width (with the building).
Check your local building codes as this kit is non returnable.
This ships by truck- shipping costs very depending on your location
Contact us for any questions you may have
With a buddy you can assemble your cover in one day or less.
Kits include:
5/8" thick Polycarbonate Frost Panels

T- Bar Rafters with T- Bar "snap" Cap & Gaskets
T- Bar Fascia Caps
Hanging railing with Flashing
All Frame, support beams and posts in your selected color