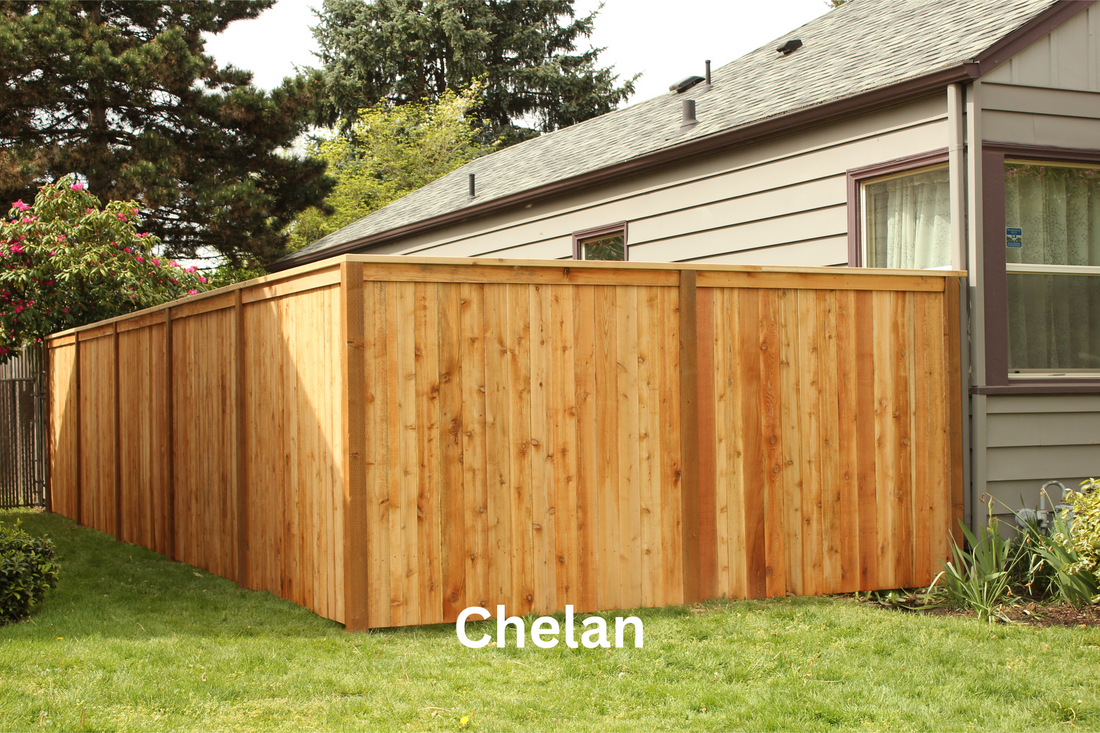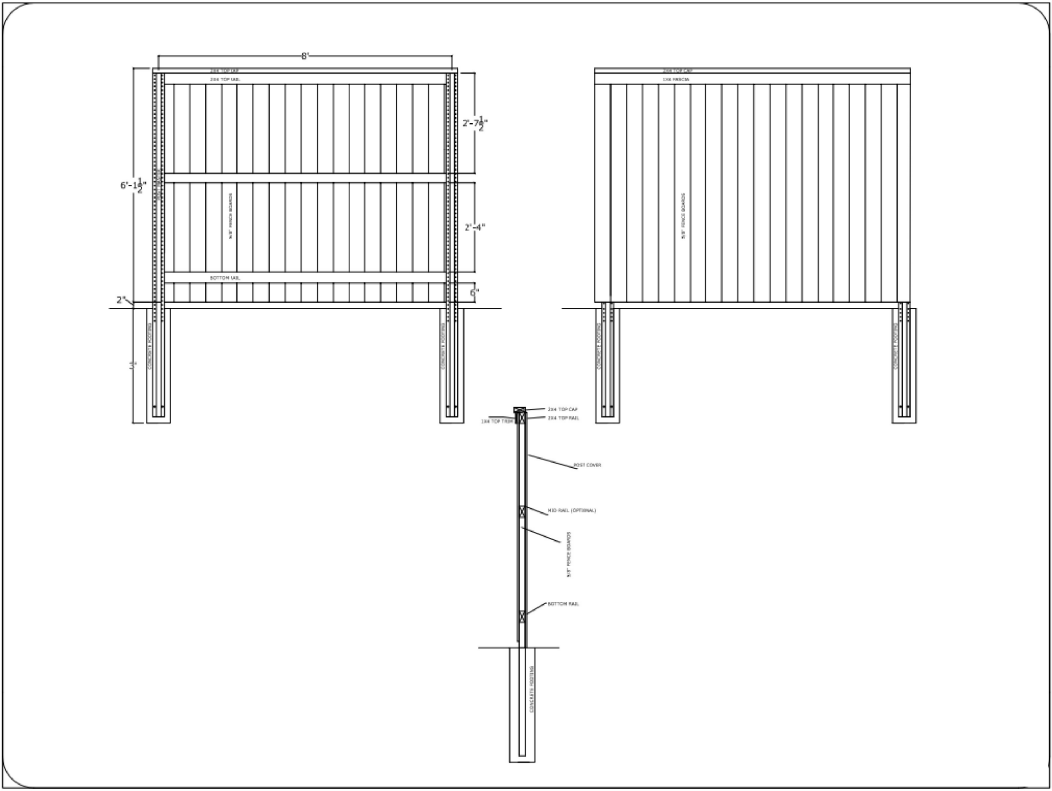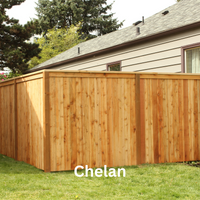 Western Red Cedar Privacy Wood Fence- Chelan
The Chelan cedar fence provides privacy and security at an affordable price. Choose your grades of pickets and enjoy the vertical lines of this popular fence style.
We offer 3 different grades of pickets to fit your needs. 
5/8in. x 5-1/2"x 6ft Clear - Least Knots as possible
5/8in. x 5-1/2"x 6ft #1&BTR - Less Knots 
5/8in. x 5in. x 6ft. #2&BTR - Most

 

knots 
Western Red Cedar naturally resistant to decay and insects.

This is a all natural product that can be easily stained or painted.

Made In USA by Alta Forest Products
How to order-
Here is the math when figuring your pickets. 5inch wide or 5.5inch wide.
Example- Length of fence- 100ft x 12 to convert to inches= 1,200 inches / picket width (5.5inch) = 218 pickets. Role of thumb is 10% overage to cover mess ups etc.. 
218 x .10 (10%) = 22 extra + 218 = 240 total pickets. 
Fence Pickets
5/8in. x 5in. x 6ft. #2&BTR Western Red Cedar Fence Picket
Price: $3.41
$3.41
5/8" x 5-1/2" x 6' #1 Western Red Cedar Fence Picket
Price: $4.17
$4.17
5/8 x 5-1/2 6' Clear Western Red Cedar Fence Picket
Price: $4.92
$4.92
Top cap / Fascia
2x6 & 2x8 WR Cedar KD TK S4S- Size Options
Price: $32.79
$32.79
5/8in x3-1/2in 8ft Western Red Cedar Fence Picket
Price: $3.56
$3.56
Rails
#2 2x4x8 Doug Fir Lumber
Price: $4.02
$4.02
2x4 Pressure Treated #2 Exterior Lumber- Size Options
Price: $6.57
$6.57
2in x 4in WR Cedar KD TK S4S- Size Options
Price: $11.01
$11.01
posts
Post Master- Steel Fence Post- Size Options
Price: $25.75
$25.75
4x4 Pressure Treated #2 Exterior Lumber- Size Options
Price: $13.64
$13.64
4x4 in WR Cedar Post KD S4S- Size Options
Price: $44.82
$44.82
Concrete
60 lbs. High-Strength Concrete Mix- Sakrete 4000psi
Price: $4.37
$4.37
50 lbs. Fast Setting Concrete Mix- Sakrete
Price: $7.21
$7.21
Gate / Hardware
Adust-A-Gate Original Series 3'-5' Adjustable Steel Fence Gate Frame
Price: $71.00
$71.00
2.5 inch Durable Black Square Plastic Fence/ Gate Post Caps- Made in USA
Price: $2.99
$2.99
8ft 2.5x2.5 Inch Square Tube Galvanized Steel Gate Fence Post
Price: $55.00
$55.00
Wood Fence Clips, 2x4 Hanger
Price: $0.67
$0.67
#10 x 5/8" Stainless Steel Sq. Pan Head Self Tapping Screw
Price: $0.26
$0.26
#12 x 1-1/2" Stainless Steel Hex Washer Head Tek Self Tapping Screw
Price: $0.30
$0.30
#10 x 2-1/2" - Flat #2 Sq. Drive TEK Stainless Steel Self Tapping Screw
Price: $0.30
$0.30
Wood Fence Manual
Wood Fence Installation Manual
Price: $49.99
$49.99
Optional hinge/latch
Adjustable 8″ Self-Closing Contemporary Wood Gate T-Hinge, (Pair) Black- Nation Wide Industries
Price: $37.89
$37.89
Cornerstone Self-Closing Light Nylon Gate Hinge (Pair)- Black- Nation Wide Industries
Price: $31.99
$31.99
Contemporary Gate Latch with Stop & Handle- Lockable, Black- Nation Wide Industries
Price: $14.49
$14.49
Keystone Advantage 2-Sided Lockable Gate Latch, Black Nylon- Nation Wide Industries
Price: $52.99
$52.99
Modern Outdoor Gate Latch
Price: $145.00
$145.00
24in. Black 5/8in. Gate Drop Rod - Lockable- Black- Nation Wide Industries
Price: $11.99
$11.99
12in. Drop Rod Pipe For Gates
Price: $7.88
$7.88